When it comes to cooking, having a reliable stove is a must.
Buying a new stove
can be overwhelming when you haven't been in the market for some time, things have probably changed, and you have new things to consider when making your selection.
We have created a helpful buying guide to help you choose the right stove (ceramic or gas stove) for the way you and your family cook. Take a look at our tips below on how to buy the right ceramic or gas stove for your kitchen.
1. Stove & hob size
When researching for a new stove, it's important to consider all elements of its size. You need to consider not only the width of the hob but also the number of different cooking zones it offers and whether they have flexibility.
The standard stove size is 60cm, enough for most households, however some brands offer hobs as small as 30cm, slightly bigger at 70cm and the largest being 90cm. You may look at pairing a 30cm gas or induction hob with a 60cm hob of a different type, giving you ultimate flexibility in the kitchen.
When looking at cooking zones it is common to have 4. However, you may also find other combinations below:
3 zones - 2 smaller and 1 large
4 zones of varying sizes with 1 having adjustable sizing between small and large
4 cooking zones - varying sizes with 2 able to become 1 large zone 2. Types of stoves and hobs
Induction hobs – Quickest to heat up, respond to temperature changes and cool down. It only heats up the area underneath your pots or pans, leaving the remaining surface cool - just like magic.
Gas hobs – Show the changes you make to the heat by the size of their blue flame.
Ceramic hobs – Ceramic hobs have a smooth glass surface over the heat source, making them easier to clean.
Solid Plate hobs – These electric hobs only provide heat to the portion of your pan in contact with the plate, so make sure to use your flat-base cookware.
3. Design & other considerations
Installation Costs
An important factor to consider with any appliance purchase is the installation cost or kitchen adjustments that need to be done to fit the appliance.
When looking at a gas hob you will need to ensure you have a gas connection and whether your connection is natural or LPG ensuring the hob you choose is compatible. If you are leaning toward induction cooking in your kitchen, you will need to assess whether you have enough amps to power an induction hob.
New Cookware Investment
Most modern cookware is induction friendly, however, there are still a lot out there that are not. This may mean that you need to purchase new pots and pans.
Before you do the mental calculations of the extra costs, grab a magnet and see if the base of your pots and pans attracts the magnet. If they do you should be cooking with induction in no time.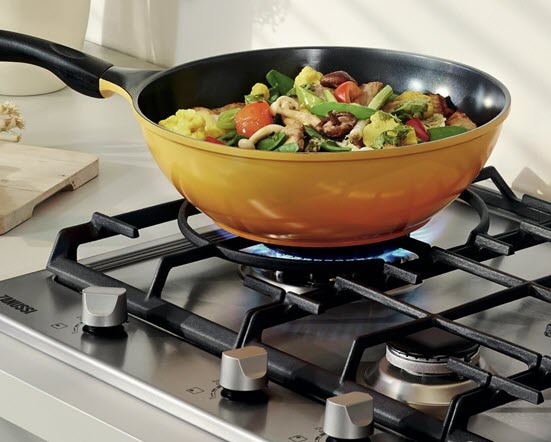 4. Warranty & service
Warranty
Subject to terms and conditions our kitchen hoods come with 36 months warranty in Egypt, following the date of purchase. Click here to view Terms and Conditions.
Support & Service
Having trouble with your appliance? Looking for a manual? Head to our 19999 service center page, we are here to help.