Zanussi's dishwasher buying guide will help you decide which dishwasher to buy to get an everyday job done - effectively and quietly. Capacity, performance, efficiency, and design are key things to consider, so let this buying guide help you on how to choose the right dishwasher for your family.
Kitchen design & layout 
The work triangle is considered the gold standard of kitchen layout design. This refers to the sink (and therefore dishwasher), fridge and stove placement for efficient cooking and cleaning. Taking a bird's eye view can help plan your work triangle (most are U or L shaped). Also consider storage options, strategically placed appliances, and map out how you'll move around.
Some dishwashers come with your typical cutlery basket, where you stand your knives, forks and spoons up vertically, while others come with a horizontal removable 15 setting cutlery drawer. The more flexibility in the design means the greater options you have for stacking and loading, so you don't have to hand wash a thing. Dishwasher Capacity
Dishwasher capacity is measured in 'place settings' a load can fit. A place setting counts as what you'd need to serve a three-course meal in dishes, cutlery, and glassware. Here's a guide.
A 6-9 place settings model is well suited to small households, especially if you dine out frequently, or have limited space.
A 9-12 place settings model is ideal for a medium-sized household or couple who works from home. Also comes in slimline.
A 12+ settings model is best for large families, households who entertain frequently, or those with the kitchen space.
Dishwasher programmes
For Grubby pots - If you love a gooey, cheesy lasagne but hate the residue it leaves behind, look for a model with an intensive 70°C program for ultra clean, hygienic results in under 90 mins.
For Delicates – If you'd like to clean glassware, a machine with a cool 45°C wash will keep the temperature constant to avoid damage.
For a bit of everything – Some machines will choose the optimum temperature (between 45 and 70°C) based on how many dishes and how dirty they are. Then choose the best rinse and dry settings too.
#EASYTIP: Remember to use salt to stop limescale streaks appearing on your dishes Types of dishwashers
Built-in Dishwasher
Most commonly installed, this dishwasher slides perfectly into the allocated kitchen space, typically under the benchtop to create a specifically designed custom-built look. Built-in dishwashers can be integrated (concealed behind cabinetry) or semi-integrated (concealed with the front control panel visible) and are available in variant finishes like stainless steel or white
Make sure to consider these following factors when buying a built-in dishwasher:
Elevating dishwashing to new heights
Designed with customizable compartments, Zanussi dishwashers can fit dishes of all shapes and sizes. Enjoy efficient stacking and reduce the need for multiple cycles.
AutoWash and Engery Saving
Zanussi's AutoWash feature measures the diameter and dirtiness of dishes to deliver superior wash performance, while maintaining time, water and electricity efficiency.
Take the guesswork out
Zanussi offers simple functions including 24h delay and Time Manager, so you can cut the duration of the washing cycle to a half, as well as choose the most convenient time of the day to do the dishes.
Air Dry technology
AirDry technology will dry your dishes with natural airflows. The door opens up in the last part of the program so dishes are clean and dry ready for unloading. Gone are the pesky droplets that always remained on crockery.
Buy the best dishwasher in Egypt with our recommended products below:
Freestanding Dishwasher
With an exposed exterior and control panel, these standalone designs don't need to be built into your kitchen. The moveable design means they can be placed anywhere with water and drainage access. Available in three finishes (stainless steel or white), freestanding dishwashers also come in multiple size variations suiting most allocated kitchen dishwasher spaces.
Consider these following factors when buying a freestanding dishwasher
Blast bacteria
Zanussi's Hygiene Plus setting blasts the dishwasher contents with a final rinse cycle temperature known to kill 99.99% of bacteria, for clean and sanitised dishes, glasses, pots, pans and more.
Pack away your tea towels
Maximize your drying performance with the natural airflow offered by Zanussi's AirDry technology. At the end of the wash cycle, the door automatically opens by 10cm, allowing moist, hot air to escape and fresh airflow to enter, aiding items in drying faster and spotlessly.
30 MINUTE QUICK WASH
This unique specially designed programme is perfect for people on the go. It washes all the freshly soiled crockery from an evening meal for a family of four in just 30 minutes and with a temperature of 65'C, you still get an 'A' rated wash performance.
Take good care of your glassware
Thanks to Softspikes, your glassware will be carefully protected and prevented from scratching.
Buy the best dishwasher in Egypt with our recommended products below:
EGP 24,225.00
AirDry Technology

ِAdjustable Tray
Auto Program
See more
EGP 33,225.00
AirDry Technology

Hygiene Plus
Satellite Spray Arm
See more
Dishwasher buying guide: Other considerations
Connection
You'll need to consider three connections as part of the installation process. Your dishwasher will need a power supply, washing water supply, as well as wastewater drainage. If this is outside your remit, having yours installed and connected by a professional is the best option.
Dishwasher Installation
The standard size for a dishwasher is 600mm wide, 820mm high and 600mm deep, but it's critical you measure both the space you have available and the dimensions of the dishwasher precisely. Also consider rear ventilation and your 'air gap', the most effective method to protect your dishwasher from flooding with wastewater, something professional installers or plumbers can help with.
Noise
For a truly whisper quiet set and forget model, opt for one with sound levels at 45 dB or under - the noise equivalent of light rain. If that's still not peaceful enough for you, look for models with an Extra Silent program which runs at a virtually silent 37dB.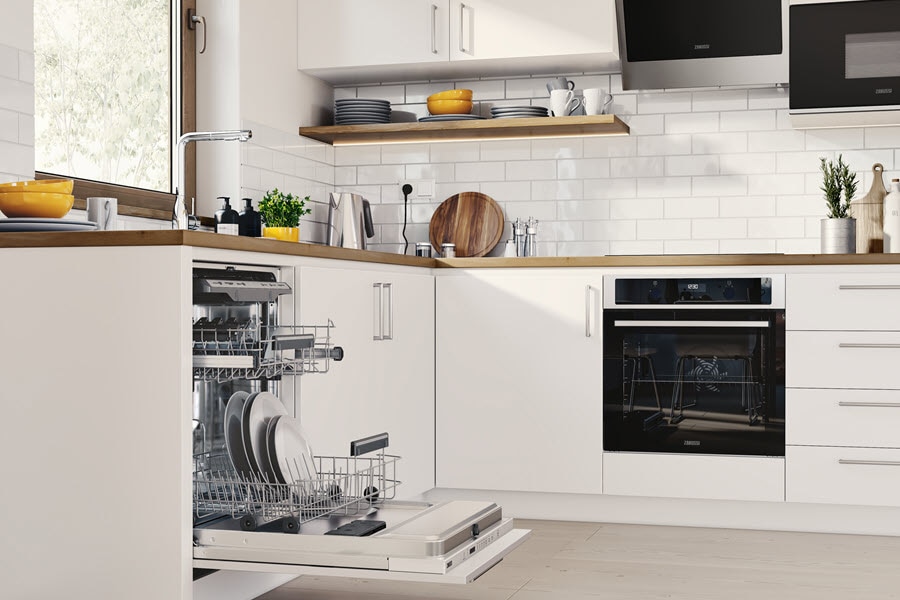 Energy efficient
If wanting to save on your bills and help the environment, consider dishwashers with special features like half load settings and delayed starts (which run during off peak utility periods).

Suggested post: Dishwasher benefits: 7 reasons why you should get one


Dishwasher Cleaning
For appliance longevity and performance, a general rule is to clean the filter after each wash. When it comes to odors, wipe door seals, clean the filter and run an empty hot wash with a dishwashing cleaning product. Blockages are dealt with by long hot washes and clearing potential clogs in the filter, spray arm, air gap and drainage hose, while replacing the door seal can help leaks.
Dishwasher FAQS
Which detergent should I use for dishwasher?

The item should have the dishwasher safe logo to be placed in the dishwasher. This logo is a sign that this dish is safe to be washed with a dishwasher.

Do I need to pre-wash before putting your wares into the dishwasher?

No, you don't need to rinse the dishes before putting them into the dishwasher. Instead of pre-rinsing them, it's suggested to scrape off food debris before washing with the dishwasher.

What is the difference between regular dishwasher vs built-in dishwasher?

The major

difference between a regular dishwasher vs a built-in dishwasher

is that the first one is a temporary fixture and the latter one is permanent. A regular dishwasher model is a freestanding one which involves no specific plumbing work. It all requires adjusting them to your kitchen faucet and start working. However, a built-in dishwasher comes with advanced wash settings which you can customize as per your needs.
Dishwasher support & service
Having trouble with your appliance? Looking for a manual? Head to our 19999 service center page, we are here to help or directly call 19999.