Dishwasher buying guide: Other considerations
Connection
You'll need to consider three connections as part of the installation process. Your dishwasher will need a power supply, washing water supply, as well as wastewater drainage. If this is outside your remit, having yours installed and connected by a professional is the best option.
Dishwasher Installation
The standard size for a dishwasher is 600mm wide, 820mm high and 600mm deep, but it's critical you measure both the space you have available and the dimensions of the dishwasher precisely. Also consider rear ventilation and your 'air gap', the most effective method to protect your dishwasher from flooding with wastewater, something professional installers or plumbers can help with.
Noise
For a truly whisper quiet set and forget model, opt for one with sound levels at 45 dB or under - the noise equivalent of light rain. If that's still not peaceful enough for you, look for models with an Extra Silent program which runs at a virtually silent 37dB.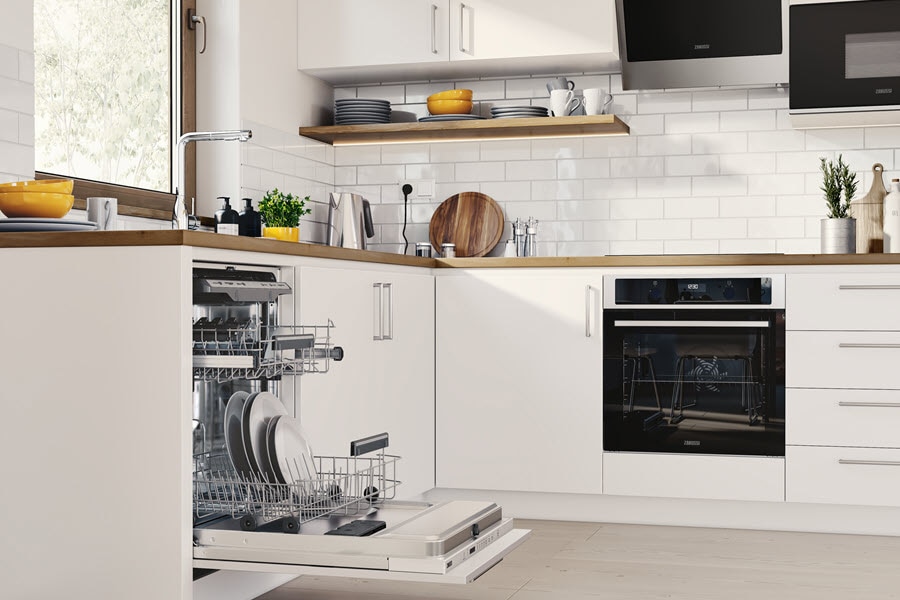 Energy efficient
If wanting to save on your bills and help the environment, consider dishwashers with special features like half load settings and delayed starts (which run during off peak utility periods).
Dishwasher Cleaning
For appliance longevity and performance, a general rule is to clean the filter after each wash. When it comes to odors, wipe door seals, clean the filter and run an empty hot wash with a dishwashing cleaning product. Blockages are dealt with by long hot washes and clearing potential clogs in the filter, spray arm, air gap and drainage hose, while replacing the door seal can help leaks.
Dishwasher FAQS
Which detergent should I use for dishwasher?
The item should have the dishwasher safe logo to be placed in the dishwasher. This logo is a sign that this dish is safe to be washed with a dishwasher.
Do I need to pre-wash before putting your wares into the dishwasher?
No, you don't need to rinse the dishes before putting them into the dishwasher. Instead of pre-rinsing them, it's suggested to scrape off food debris before washing with the dishwasher.
What is the difference between regular dishwasher vs built-in dishwasher?
The major difference between a regular dishwasher vs a built-in dishwasher is that the first one is a temporary fixture and the latter one is permanent. A regular dishwasher model is a freestanding one which involves no specific plumbing work. It all requires adjusting them to your kitchen faucet and start working. However, a built-in dishwasher comes with advanced wash settings which you can customize as per your needs.